Kärntner Straße is easily the street I've featured mostly on multiple blogs. It stretches through Vienna's center, the Stephansplatz and is lined up with all things both locals and tourists would fancy, a well-trodden shopping district. And February  24 marks a history both for this busy street and Apple as  the latter opens its very first store there – strategically located at the corner of Weihburggasse.
The store has a corner entrance as is characteristic to other stores in the area like Swarovski and Forever 21. The combination of exterior columns and large glass windows does not alienate the facade from the neighbourhood, it rather mixes perfectly into the landscape. It is reminiscent of Apple Schildergasse in Germany.
Apple fans and users looking to try out  products were able to explore the entire line in the store and also learned so much from the store team, a few of the 150 people employed. The company boasts to service 44 languages from within its workforce.
New owners of Apple products got help customizing their iPhone, iPad, Apple Watch or Mac with Personal Setup while users worked with Geniuses at the Genius Bar as they acquire technical support and advice. Additionally, the Apple Store app acted as a personalized guide to the best support options from Apple and it is undoubtedly another easy way to get connected with an expert.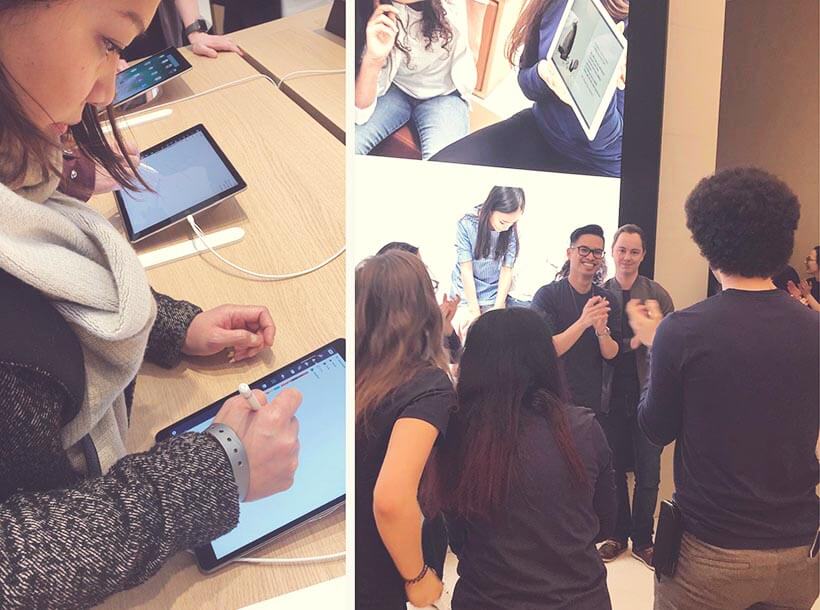 The Apple store in Vienna is currently number 488 among its retail stores located in 21 countries…it follows that it is the latest to have an online store – available in 39 countries.  Once closed, the store is adorably designed in custom patterns, including a unique version of the Apple logo, almost like a patchwork.
Apple Store
Kärntner Str. 11, 1010 Wien
Hours:
Friday 10AM–8PM
Saturday 9:30AM–6PM
Sunday Closed
Monday 10AM–8PM
Tuesday 10AM–8PM
Wednesday 10AM–8PM
Thursday 10AM–8PM
Kärtner Straße is a no-vehicle street, the Apple store can easily be accessed from 2 train stations, Karlsplatz (U1, U2, U4) and Stephansplatz (U1 and U3), it is easier to walk there though from the side of Stephansplatz.
--------------------------Book your Vienna stay here!--------------------------