So we went on a lockdown in March, and it did help curve the spread of the virus. By July 1, Austria confirmed 114 new coronavirus cases in the last 24 hours – which is the highest number since April, more than 10 weeks ago. While it could be alarming, these were mostly outside of Vienna.
The past months, I would go to the grocery store, and sometimes there are only 3 other persons shopping. Most of the time, I have an aisle by myself, it was surreal but also an assurance, that yes, people are staying home.
A while back, the lockdown was lifted, restaurants were opened with the restriction of only up to 4 people dining per table. Masks are required inside establishments, salt and pepper shakers are removed from the table, and as usual, reservations are a must.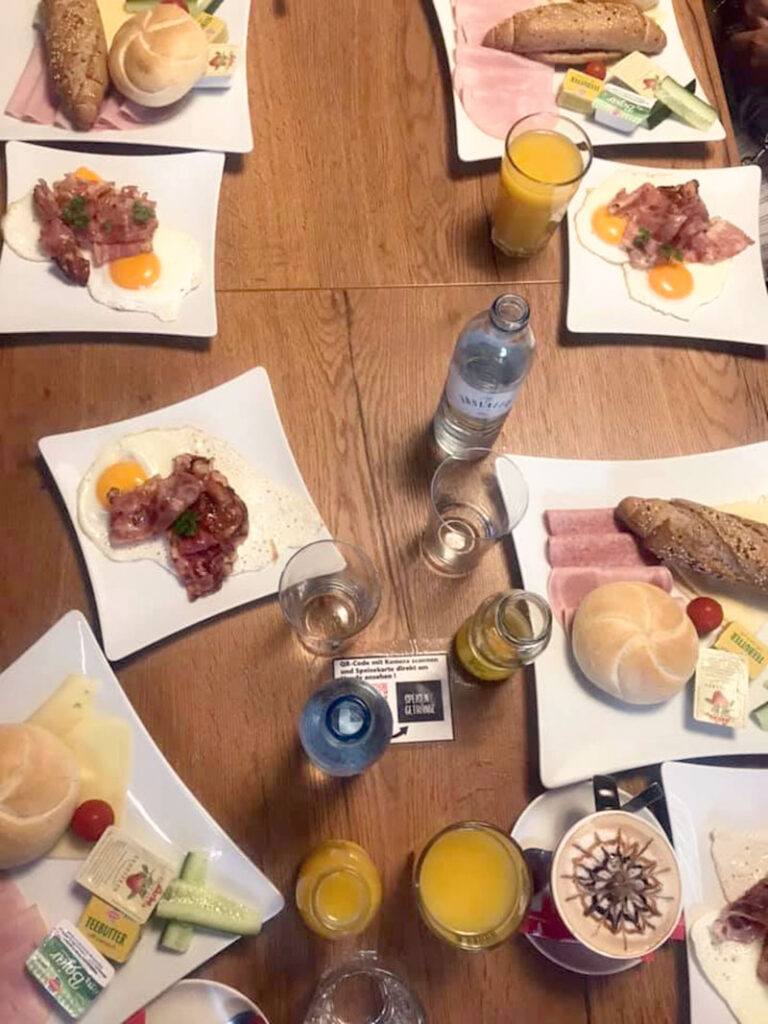 First meet up Since the Lockdown
It has really been difficult to meet up with friends the past months. The farthest I went was to the train station nearest our place, that's 5 tram stations. I would sometimes also meet an older friend to help her send money to her family (internationally).
So when restaurant dine-ins were allowed, we arranged a breakfast meet up at XXXLutz' first stand-alone restaurant at the Mariahilferstrasse. The shop was opened in November of 2019, but we didn't get the chance to visit then, 4 months later we finally went, once lockdown was lifted.
We've loved the Lutz restaurants, not just because of the good food, they always give out coupons for what's already affordably-priced meal sets. Usually, dining in would be after browsing about the stores for furniture, pillow cases, curtains, and other homeware.
This particular date with friends though is just to meet up after a while. The stand-alone restaurant has a small display of home deco, but it's really mostly for eating. Main meals are served later in the day, this we've yet to try.
Meal Sets
Breakfast meals come in different sets. The usual set includes bread roll, eggs, ham, cheese, butter, jam, cream cheese, cherry tomatoes, cucumber slices, and a hot drink. You can choose which coffee variation to have – expresso, melange, cappuccino, caffe latte, and so on. Other options include whole grain bread, orange juice, milk, eggs benedict, and bacon.
Discounted Breakfast Meals
On certain days, XXXLutz Mähu offers discounted breakfast meals…of its already very affordable menu sets. For example, a breakfast of two bread rolls, two eggs, ham, cheese, butter, jam, and a hot drink retails for 5,90€ and goes down to 4,50€. It's a filling morning spent with friends.
Full and Ready For the Day
Suffice to say, an XXXLutz meal will give you the energy you need for the day. For us, this includes walking and window shopping at Vienna's famous shopping street, Mariahilferstrasse.
Mähu XXXLutz
Mariahilferstraße 121b, 1060
A few minutes walk from the train station Westbahnhof.
--------------------------Book your Vienna stay here!--------------------------