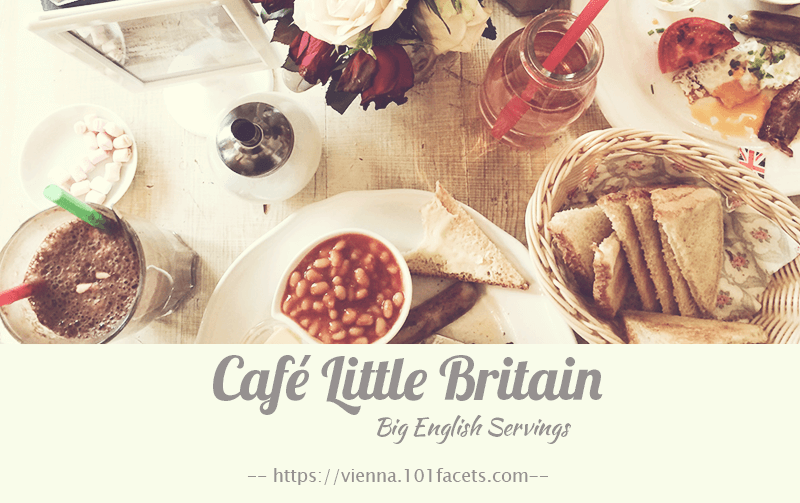 Café Little Britain definitely gives you a very cozy vibe and wakes up the wanderlust in you.
Wanderlust;  (desire to hike/enjoyment when one wanders) a strong desire for or impulse to wander or travel and explore the world. Fernweh; (farsickness) longing for far-off places, to visit a particular city or place. German has always been a wonderful language in expressing feelings of nostalgia. While these two words both refer to travelling, I wonder if there is an equal word aside from craving when you desire for food or meal that is known from a particular city?
London Calling
For one curious morning, I had wanted to go out for an afternoon tea, just because I felt like wandering around London but can't go due to many reasons pertaining to: money. 😀 I had been planning to visit this beauteous British café at Vienna's middle district for some time now but I was a little bit busy with other things that it has always been pushed aside. Glad I was able to set up a date on short notice with some of my friends who are also very fond of London – its charm, tea, biscuits, and all that it has to offer.
Cute Tea sets and Floral Accents
We were all in awe upon entry, seeing all the teapots, cups, floral displays that make the ambiance all so very much an English afternoon tea setup. The mismatched furniture in the dining area added charm to the cafés' overall interior. (*swoon*) The hint of pink wall, roses, and the candles made our stay more pleasant since all three of us are fond of anything dyed in pink. <3
We settled near the glass windows, on lower chairs (we're not with long-legged friends hehe). It was the perfect spot for taking food photos! 😉 Their menu lists various options of English breakfast, pancakes, cereals – with vegan options. Bagels served warmly can be ordered with either salmon, cream;  mozarella, tomato, pesto; brie, pear, lingonberry; salami, cheddar, and a vegan option with hummus and vegetables.
Servings
Their afternoon tea is served for two:  2 x tea of your choices, sandwiches, scones with cream and marmalade. The avail of the tea set, one needs to call in for reservation to give them some time for preparation, which we weren't aware of by then. We only reserved for the seats.
Oh, quiche, porridge (both also has vegan variations), Cadbury, Whittard chocolate drinks shouldn't be forgotten!
Being a café, they also serve coffee from classic black to one combined with caramel, condensed milk, you name it. And since tea is culturally an English thing, they have loads to serve in beautiful teapots. If you're more of a non-caffeine drinker, they have carafes of water infused with fruits. They also have various cakes and pastries on display, they are also available for take home.
I've had their English breakfast meal, reminiscent of the same dish hubby had one morning in London. A plate of sausage, bacon, beans, tomato and egg with a basketful of toasts. I believe, all three of us had the same. (referring to the topmost photo) We also each had the Cadbury Dairy Milk chocolate drink – perfectly blended with lots of marshmallow on top!
Oh, I forgot to mention that it was after lunch when we came, so yeah, they serve breakfast meals way beyond breakfast time, even lunch time (until 2pm according to their website).
We probably spent two hours eating, laughing, and talking about so many things. I took a lot of photos of the crannies and nooks. (Even the gang to the WC was picturesque, displaying a lot of mirrors and picture frames!) There were mini-bike planters that I was so obsessed about and a bigger one by the window, just too cute!
Food wise, you will definitely enjoy everything served and be full too. Even if it's breakfast food for lunch, their serving is sure to fill you up for the rest of the day. There's always dessert to follow anyway.
Cafe Little Britain
@ Engerthstrasse 249-253, 1020 Wien
Hours:
Friday 9AM–6PM
Saturday 9AM–6PM
Sunday 9AM–6PM
Monday Closed
Tuesday Closed
Wednesday 9AM–6PM
Thursday 9AM–6PM
Phone: 01 9962143
*only accepts cash*
--------------------------Book your Vienna stay here!--------------------------