Some might think that getting lost on purpose is a childish thing. So be it, I love getting lost and ending up in really beautiful places, but I'm not keen at finding my way at the Schönbrunn's maze. Well, just in Vienna. I haven't explored all the secret streets nor have I discovered all the nooks with such nostalgic charm but I'm getting there.
Hidden within the city, among a pathway of cobblestones and many a chair waiting for customers, is a humble cafe owned by a bunch of furry-ocious cats!
Japanese Snacks
One of the very first Neko (Japanese for cat) Cafes in Europe, the Cat Cafe in Blumenstockgasse is a refuge to those seeking peace and quiet among precious cats. The cafe offer Japanese traditional tea, Viennese coffee, Japanese treats as sake sushi, inarizushi and rice balls, just enough for snacks but not a full meal. They also have a selection of cakes and ice cream to choose from. As with other neko cafes, customers are allowed to play with the resident cats. One can also buy cat food to feed them.
The cafe was designed to house them cats, high-ceilings, wood fixtures, a cat playground and toys comprise the lot. There are five cats featured on the cafe's wall. They are introduced via the cafe's menu, complete with a description of their person, their birthdate, gender and a profile photo! 😀
Teas
I had a cup of Japanese Rice tea…bitter and pure, it is worth sipping down with a friend who also loves cats. Often, I've wanted to photograph cats around as they are one of my favorite photography subjects.
No Stray Cats
There are no stray cats around the city so the neko cafe is the best choice to get lovely portraits of them elusive, picturesque pets! 😀 Then again, the cafe prohibits flash photography so as not to disturb them cats…it's all good.
If you're a cat lover who happens to enjoy Japanese sweets, this place is a must! You'll meet like-minded people – I mean, cat lovers and you can enjoy your cuppa in a very relaxed atmosphere and in the company of these sweet, furry, photogenic creatures!
—-
Café Neko
– Blumenstockgasse 5, Vienna 1010, Austria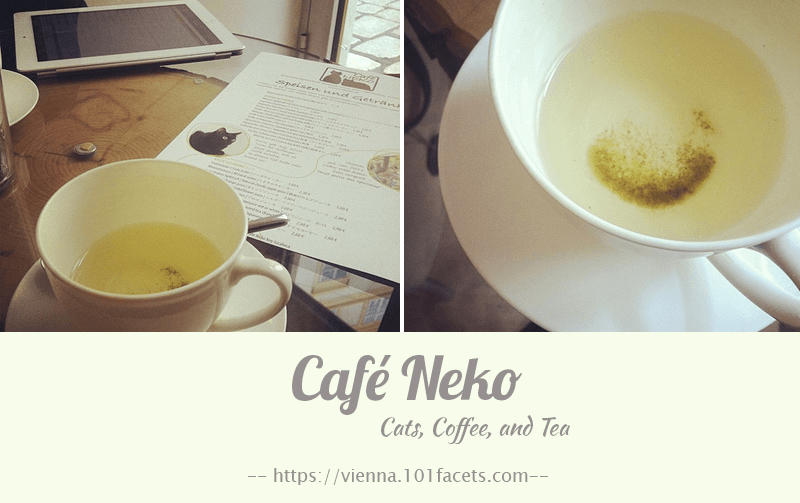 --------------------------Book your Vienna stay here!--------------------------