Café Sperl is a historic and iconic coffeehouse in Vienna. It is renowned for its rich history, traditional Viennese coffee culture, and charming ambiance. Like other traditional Viennese coffeehouses, it offers a variety of items on its menu, including coffee, tea, pastries, light snacks, and full Viennese cuisines.
The coffee they serve is reason alone to visit. But if a friend is someone who enjoys history, I bring him or her here, too.
From Café Sperl's menu, you can also enjoy delicious pastries and cakes, including Sachertorte, Apfelstrudel, and Topfenschnitte to accompany your coffee.
History
Café Sperl was established in 1880 by Eduard and Ignaz Sperl. It quickly became a popular gathering place for intellectuals, artists, writers, and musicians during the late 19th and early 20th centuries. Many famous figures, including Peter Altenberg and Arthur Schnitzler, frequented the café.
Architectural Charm
The café has retained its original 19th-century charm with its elegant interior design. The decor features ornate wood paneling, marble-topped tables, chandeliers, and plush seating. The café's timeless atmosphere transports visitors back in time to the heyday of Vienna's coffeehouse culture.
Coffee and Pastries
Café Sperl is known for serving some of the finest coffee in Vienna. It offers a variety of traditional Viennese coffee specialties, such as Einspänner (a black coffee with whipped cream), Melange (similar to a cappuccino), and Wiener Eiskaffee (Viennese iced coffee).
1. Coffee: Cafe Sperl typically serves a wide range of coffee options, including Viennese coffee, espresso, cappuccino, and other coffee-based beverages with Bailey's Latte probably the most unique – I haven't seen this in other cafés.
2. Tea: They usually offer a selection of teas, both traditional and herbal, with the option for milk or lemon.
3. Pastries: You can expect to find a variety of classic Viennese pastries, such as Sachertorte (chocolate cake with apricot jam), Apfelstrudel (apple strudel), Linzer Torte, and other sweet treats.
4. Cakes and Tortes: In addition to pastries, they often serve cakes and tortes, which may vary seasonally. They also serve a delightful flourless cake, the Sperl Schnitte. For gluten-free diets, this is the perfect dessert.
5. Sandwiches and Light Snacks: Like some of Viennese coffeehouses, the café also offer light savory snacks, such as sandwiches, sausages, quiches, and soups. The truffle fries is a must-try!
6. Beverages: Alongside coffee and tea, they usually serve other beverages like hot chocolate, soft drinks, and a selection of alcoholic drinks, including wine and beer.
7. Breakfast and Brunch: Café Sperl offer breakfast and brunch options with everything eggs, croissants, cheese, ham,  breads, and other morning items. For 10,50€, you can get the Sperl breakfast, consisted of a pot of coffee, tea or hot chocolate, 2 rolls, butter, apricot jam, or strawberry jam, or homemade raspberry jam.
Viennese Cuisine
Café Sperl's Main courses are somehow cheaper than those that we've featured before. A plateful of Schinkenfleckerl, Salat (pasta with ham, salad) costs 8,60€ and seems like the plate isn't getting empty! Their Wienerschnitzel mit Salat ("Wienerschnitzel" – fried turkey or pork- with salad) and Tafelspitz  (boiled beef served with spinach, roasted potatoes, chive sauce, apple horseradish) are also relatively priced.
They also cater to the preferences of vegetarians. Their vegetarian highlight menu is the "SPERL" Fitness Salat, which is a salad plate with lots of healthy greens, mozzarella or smoked salmon.
Cultural Hub
Throughout its history, Café Sperl has been a hub for Vienna's cultural elite. It has been a source of inspiration for many artists and writers, making it a place of creativity and intellectual exchange.
One of the most famous artists who was known to visit Café Sperl was the Austrian painter Gustav Klimt. Klimt was a prominent figure in the Viennese art scene during the late 19th and early 20th centuries. He was a key member of the Vienna Secession movement.
Klimt and other members of the Vienna Secession were known to gather in Viennese coffeehouses like Café Sperl to discuss art, philosophy, and cultural matters. Café Sperl's historic and artistic ambiance made it a fitting location for such meetings, and it became associated with the intellectual and artistic life of Vienna during that period.
Relaxed Atmosphere
Café Sperl offers a relaxed and unhurried environment where patrons can linger for hours over their coffee and conversation. It is a perfect place to read a book, work on a project, or simply enjoy the company of friends. You can even play a round of pool with friends if you have time to pass.
Location
Café Sperl is situated in the Mariahilf district of Vienna, making it easily accessible to both tourists and locals. Its central location makes it a convenient stop for those exploring the city. You can walk from many train and tram stations to its location.
Cultural Heritage
Vienna's coffeehouses, including Café Sperl, are recognized as a part of Austria's cultural heritage. They are often seen as places to savor the essence of Viennese life, engage in intellectual discourse, and enjoy the city's culinary traditions.
In Popular Culture
Café Sperl was featured in the movie "Before Sunrise." It serves as one of the key locations where the main characters, Jesse (Ethan Hawke) and Céline (Julie Delpy), spent time together and engaged in deep conversations.
The café provided a cozy and intimate setting for their discussions on life, love, and various philosophical topics.
Café Sperl's classic Viennese coffeehouse ambiance, with its elegant interior, traditional coffee, and pastries, added to the charm of the film's scenes set in the café.
The use of Café Sperl in "Before Sunrise" not only contributed to the movie's romantic and intellectual atmosphere but also showcased the authentic Viennese coffeehouse culture that is an integral part of the city's identity.
Café Sperl remains a beloved institution in Vienna, offering visitors a chance to experience the city's coffeehouse culture in an authentic and historic setting. It continues to be a cherished destination for coffee enthusiasts and those seeking a taste of Vienna's rich cultural past.
—–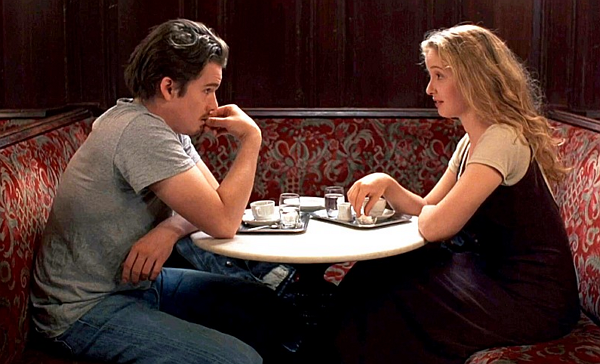 Cafe Sperl
Gumpendorfer Strasse 11, 1060
How to Get to Café Sperl By Public Transport:
Subway (U-Bahn): Take the U4 line to the "Kettenbrückengasse" station. Go up the street called Stiegengasse then turn left at Gumpendorferstrasse. Start from Gumpendorferstrasse 39 until number 11, you won't miss the ocher yellow building.
Tram: Alternatively, you can take tram line 1 to the "Paulanergasse" station or tram line 62 to the "Gumpendorfer Str./Theobaldgasse" station. Both tram stations are within walking distance of Cafe Sperl.
On Foot: Once you arrive in the vicinity of Cafe Sperl, you can walk to the cafe. It is very near the Naschmarkt (U4), but you have to walk up a little. Going down from the Museumsquartier (U3) train station is also a good way to go.
By Car: If you are driving, you can use a GPS navigation system or a maps app to guide you to the address. Please note that parking may be limited in this area, so it's advisable to check for nearby parking facilities.
--------------------------Book your Vienna stay here!--------------------------