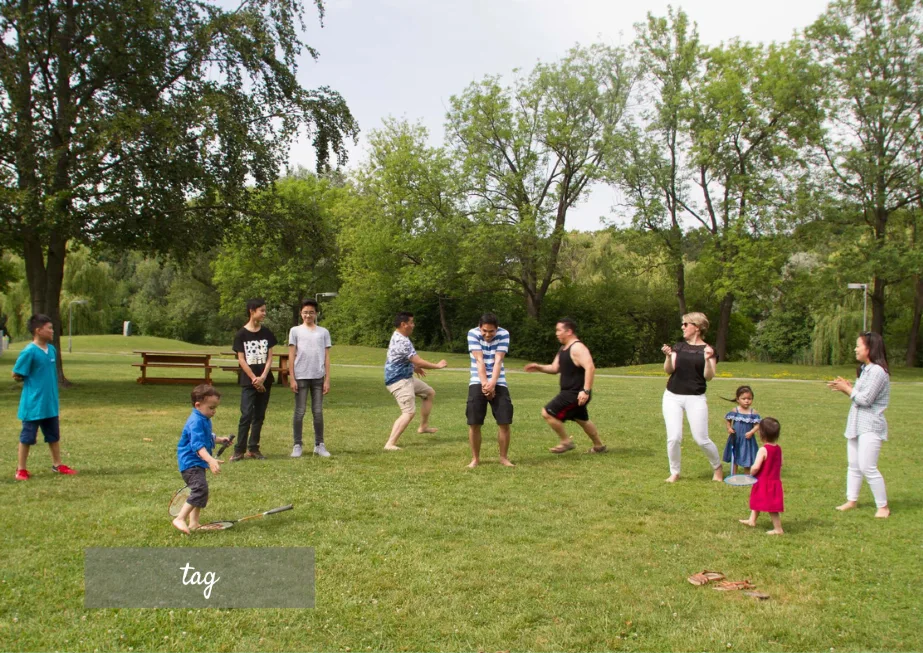 Summer is almost to an end, but before the sun leaves temporarily this year, we head once more to Vienna's parks to enjoy and create memories with friends. Parks, small and big, abound in Vienna approximately numbering to a hundred. You can walk to one from your building, and it is very likely that the kids can have playmates who are living in the same compound. These parks have areas installed with swings, slides, seesaws, nets, and other playground equipment and fun activities kids can enjoy.
There will also be picnic tables and chairs, table tennis, caged courts, and even exercise machines for adults to use. It is convenient for those little tired feet and hands too, they can have a break, sit by the picnic tables, have some water and snacks while playing mind games that enhances thinking, math games to make learning more fun on mobile.
All over Vienna, there are playground sets strewn around neighborhoods, integrated in such a way that kids can have fun with such equipment even in smaller areas.
There are a handful of indoor game centers too for colder days or when it gets too hot outside.  The biggest park that has become Vienna's icon is the Prater, and the amusement park section Wurstelprater where kids can go on rides and play fun games and even horseback riding.
Now, with all the open areas at public parks, there are a lot of classic outdoor games the kids can play. There are some they may not even have heard of. Here are a handful of the games we played with the kids, some of which are our favorites from our generation.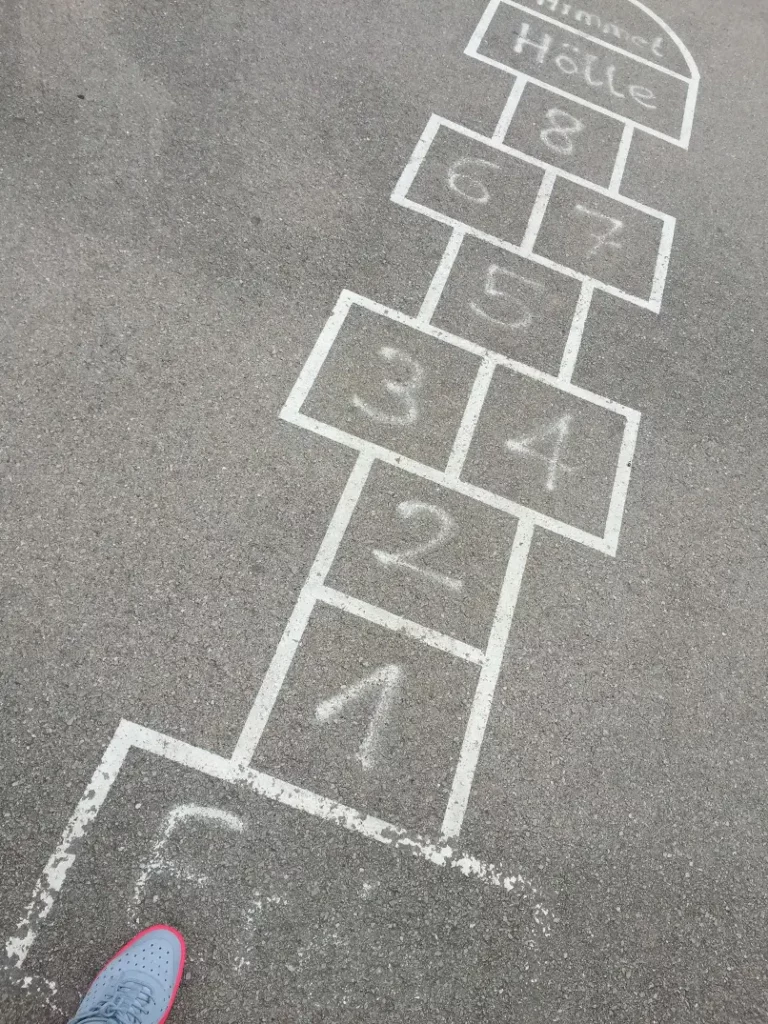 Hopscotch  
Hopscotch, a physical and cognitive workout game is usually a pattern with numbers painted on pavement. Back home, we used chalk or terracotta pot remnants to outline one.
How to play:
The player tosses a small object, called a lagger (this could be a small shiny stone or remnants of a terracotta pot which we call bató at home) into the numbered rectangles.
Player then hops or jumps through the numbered spaces to retrieve the lagger.
It can be played with several players or alone.
Hopscotch requires a good balance and the ability to count. Hopscotch have different varieties and is called in different names around the world. We call it Piko. How do you call hopscotch and also a lagger in your language?
Jump Rope
While jump rope is technically the tool used in the sport of skipping/jump rope, it is also what the game is called. The game is where one or more participants jump over a rope swung so that it passes under their feet and over their heads.
There are different subsets/types of skipping/jump rope, including single freestyle, single speed, pairs, three-person speed (Double Dutch), and three-person freestyle. It is also fun to jump rope by groups with a really large rope, which I reckon is heavy and tiring.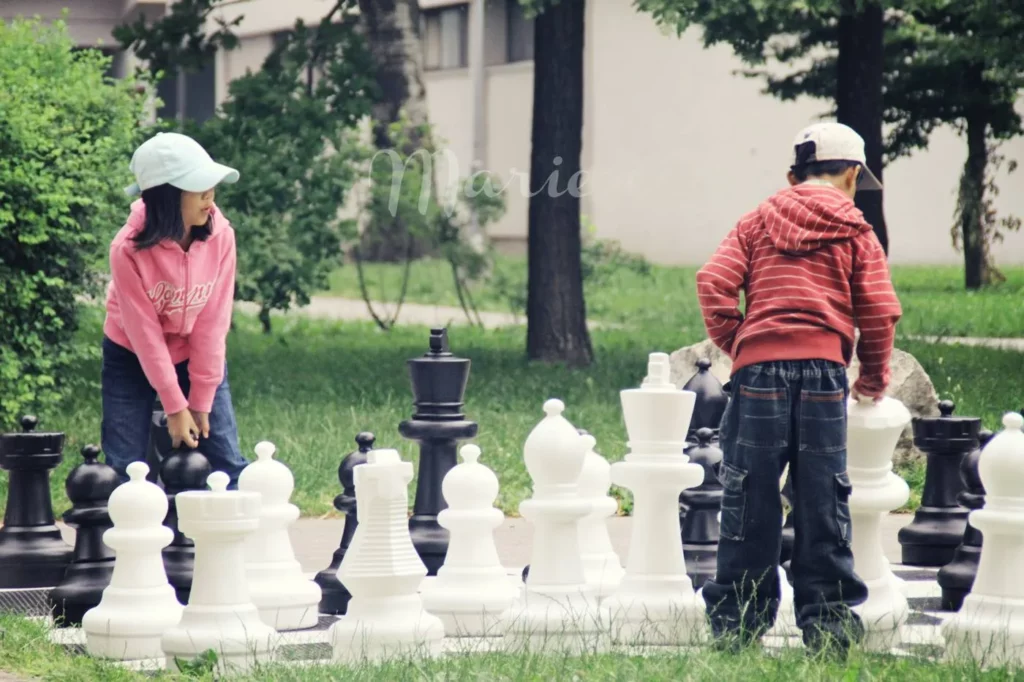 Giant Chess Set
There's a giant chess set at Vienna's Donaupark surrounded by tables where normal chess pieces can be played at. Playing the giant pieces employs both a physical challenge and a mental one. The kids who may just be a little bit bigger than the chess pieces would have to constantly be taking note of Algebraic notation as they play along.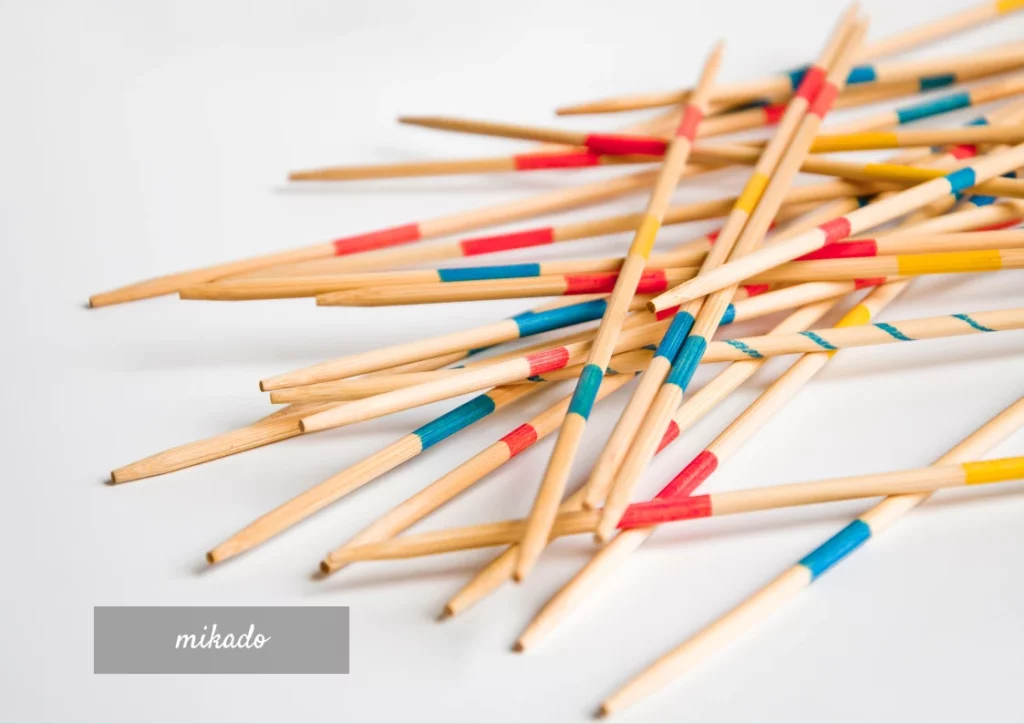 Giant Mikado

Mikado is a pick-up sticks game played with a set of same-length sticks. For a normal Mikado, this can measure between 17 and 20 cm (6.7 and 7.9 in). For Giant Mikados, usually for outdoor use, there are 26 sticks with a length of 93 centimetres (37 in) and 10 millimetres (0.39 in) diameter.
How to play:
The sticks are bundled and dropped (as they may) on the floor.
A player takes the wooden sticks from the pile one by one without disturbing the remaining stack, the players take turns until there is no more stick left. A variation of the rules, is one player can pick up the sticks until a mistake is made.
Each stick has a band color that corresponds to points. At the end of the game, these color value is added together to determine the winner.
Mikado's etymology in Japanese: mi means "honorable" + kado which means "gate, portal." It is the title given to the Emperor of Japan at a certain period of time, he is the head of the Imperial Family of Japan. The highest scoring stick is called Mikado.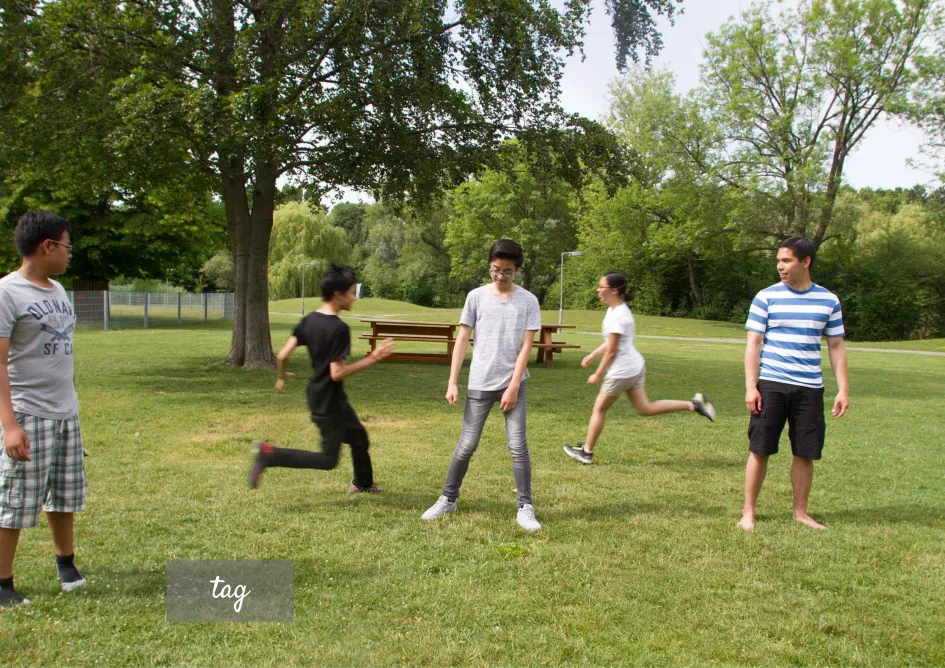 Tag / It

Tag or It is a playground game where two or more players chase other players in an attempt to "tag" or mark them out of the play. Usually, tag means by touching the other which can be easily avoided by running away or evading, the tagger is also called an "IT." There are a lot variations to this game, and one that we play back in grade school is similar to Prisoner's Base.
Prisoner's base is a game where there are two teams with equal numbers of members and each starts in a human chain by holding hands. One end of the chain is touching the base. The players at the end would break from the chain and try to tag each other, taking them to their base if they get tagged. The end pair progressively break from the chain and join the tagging. Prisoners can be freed by tagging them in the base.
Our version, which is called Agawan base (base grabbing), has one person guarding the base. Everyone else would be running around tagging opponents and they will also try to steal the opponent's base by touching it (which is guarded). Prisoners can be freed by being tagged by their teammates.
Another variation is Capture the Flag, where the goal is, as the name suggests, to capture the flag located at the team's base. It has the same rules or a similarity to those of Prisoner's base.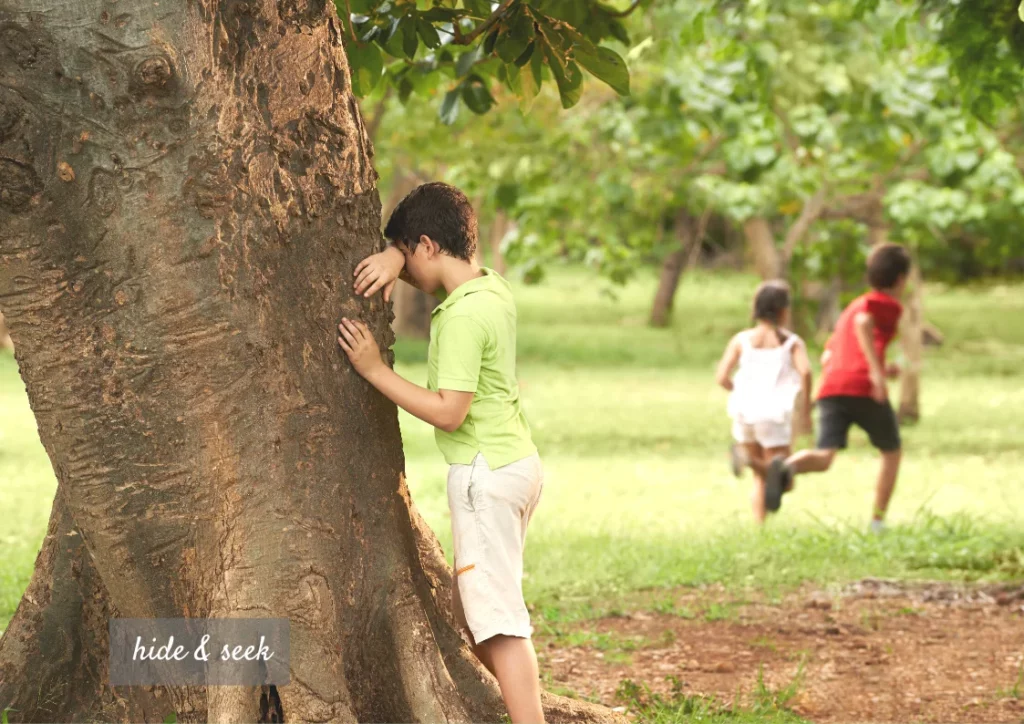 Hide and Seek
"Ready or not, here I come!" is the usual call of the "it" in a hide and seek game, as he has his  eyes closed by the base, while the other players hide. He would then count to ten and goes about the play area to attempt to locate all the other players, to tag/touch them. The first one to be found is usually the next "it." The other players can remain hiding, or they can be "safe" when they are able to run out of their hiding place and touch the base.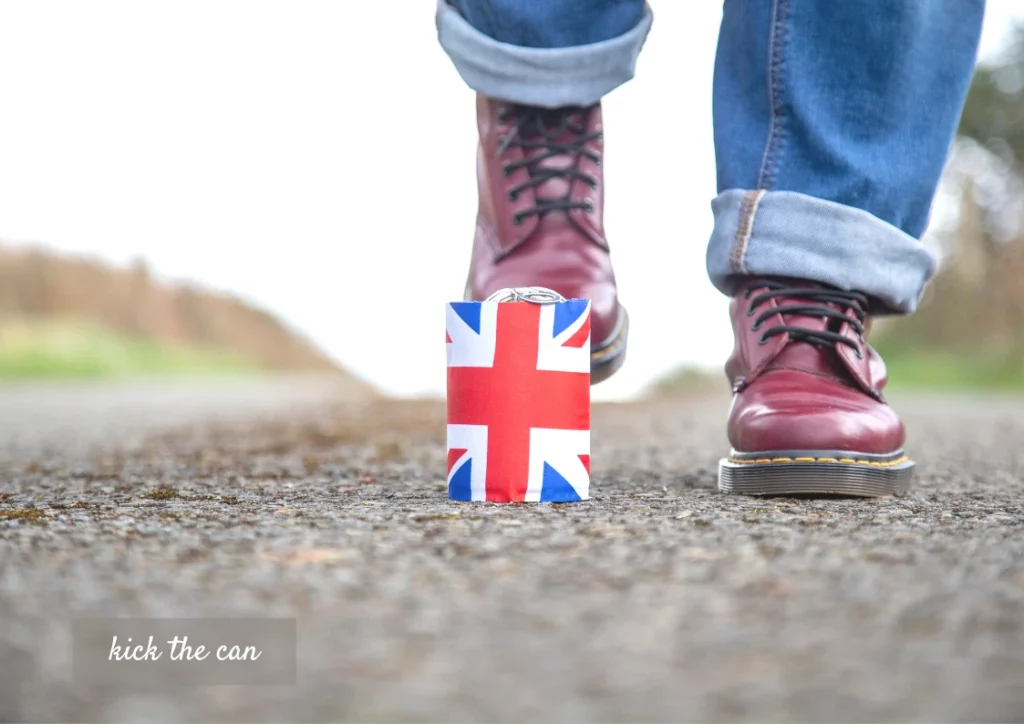 Kick the Can
Kick the can is a combination of tag, hide and seek, and capture the flag. The game centers around the can, which is the "savior" for all the prisoners.
How to play:
The "it" and a can or similar object is placed in an open space usually the middle the playing field.
Like in hide and seek,  the "it" covers his eyes and counts to a previously decided number, usually 10, as the other players run off to hide. Other versions have the game begins when a designated kicker literally "kicks the can" as far as he possibly can. The "it" must return the can to its starting place before he can continue tagging the players, which gives the everyone time to escape.
The "It" then tries to find and tag the others. A player who is tagged (caught and touched) is sent to the jail, usually an area for all the captured players to stay in – which can be drawn on the ground with chalk.
Any player who is still free can "kick the can" or "tip the can." If they are successful (untouched by the "it"), then all of the captured players are set free.
If the "it" catches all the players, he wins the round and a new "it" is designated for the next round, usually the longest player who stayed in jail.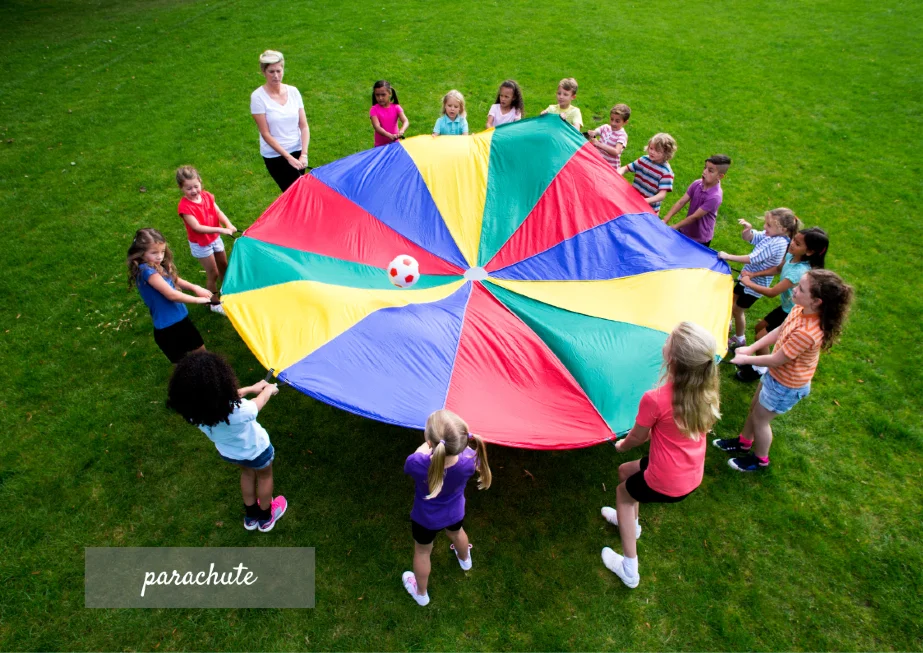 Parachute
This is a game of teamwork and coordination. There are many ways kids can play with Parachute but let's see how to play tag.
Have the players spread out around the parachute and let each one hold an edge.
Hold each edge below the knee. On the count of three, raise the chute upwards all at the same time. When filled with air, the parachute will form a giant mushroom or umbrella.
Lift the parachute up and down, then call out two player's names – those called must run under the parachute to switch spots with each other.
You can also assign players with names of colors, animals, trees, or anything that your group relates to. When the names or objects get called, the players with those names will run under the parachute to switch.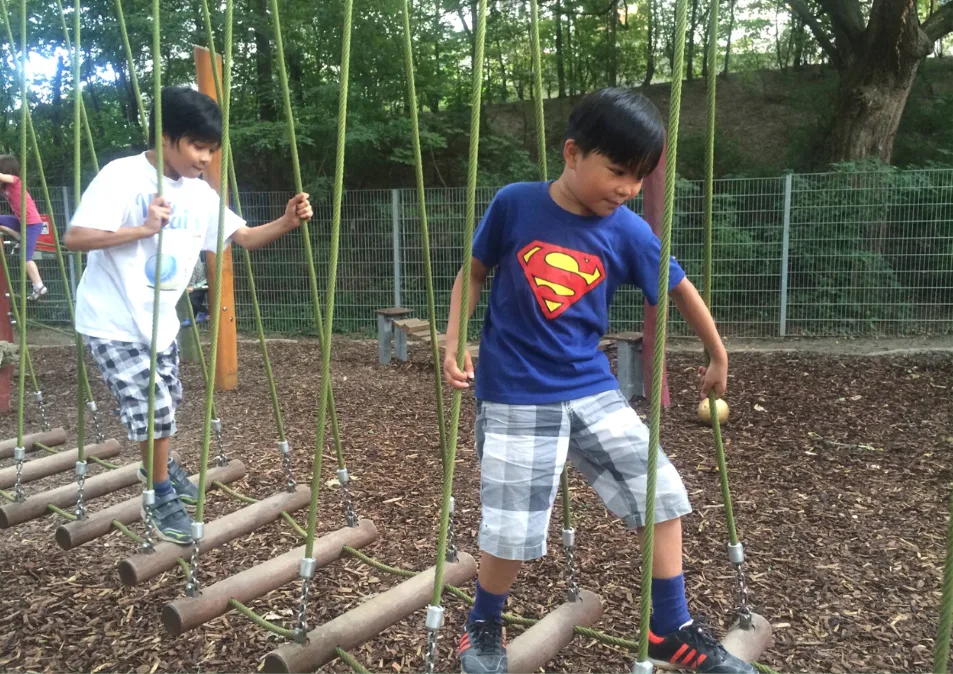 The Floor is Lava
The Floor is lava, quicksand, or acid is a game of imagination. As the name suggests, when the floor or ground turns into these things, it is dangerous, so one has to climb up to not hurt his or her feet (or totally melt). This is originally an indoor game, but is also ideal to play at a playground where there are lots of things to climb, even tree stumps, and parkour ranges.
How to play:
Someone shouts, "The Floor is lava!"
Everyone has some seconds to get both feet off the ground – up a chair, a tree, or wallclimb if you must.
At the end of counting, if someone is still on the ground, they lose and is not allowed to join in the next round.
To make the game more exciting, the loser is punished with a dare game.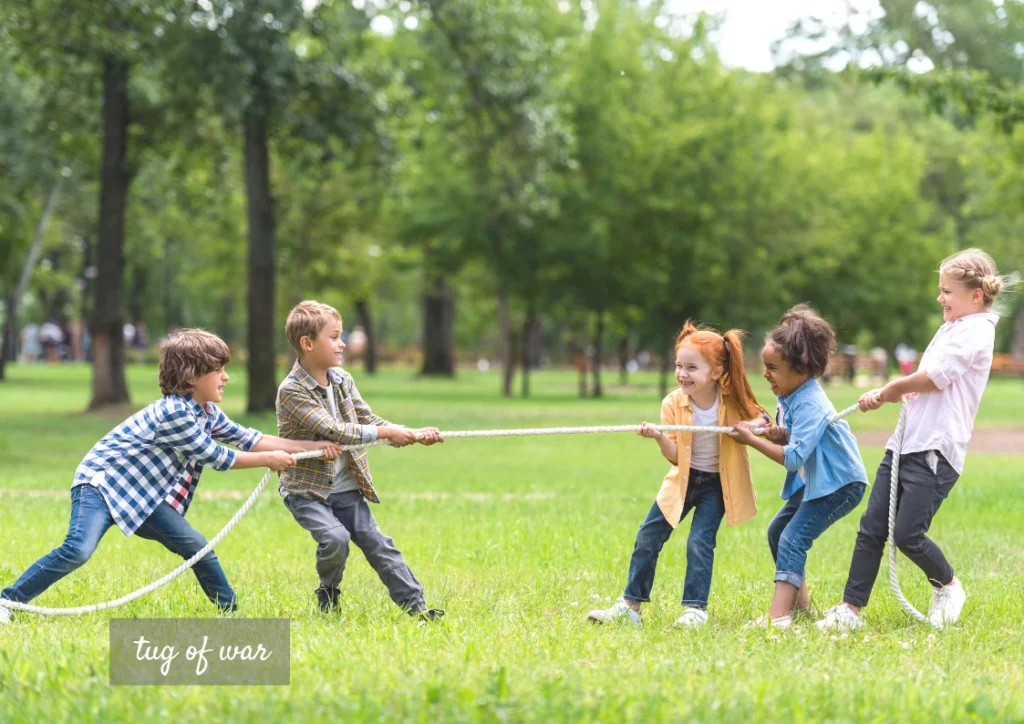 Tug of War
Tug of war is a game of strength and teamwork were two teams pull on opposite ends of a rope. The goal is to bring the rope at a certain distance from the center, usually a marked spot on the ground. It is a sport competed on in the World Games.
Originally, TUG-OF-WAR means "a struggle for supremacy or control usually involving two antagonists." The game still carries this thought somehow – over a rope! While winning depends on individual strength combined, there are tactics each person can employ for the team to win. Here's how.
Race
Bike race, 100-meter dash, sack race, three-legged race, or racing the ducks? There are many ways to play a race and you're sure to have fun whichever you participate in. Kids can bike race as long as allowed in the area and in a safe space for bikes. Sack race may not be easy to play, I mean, where do you get the sacks from?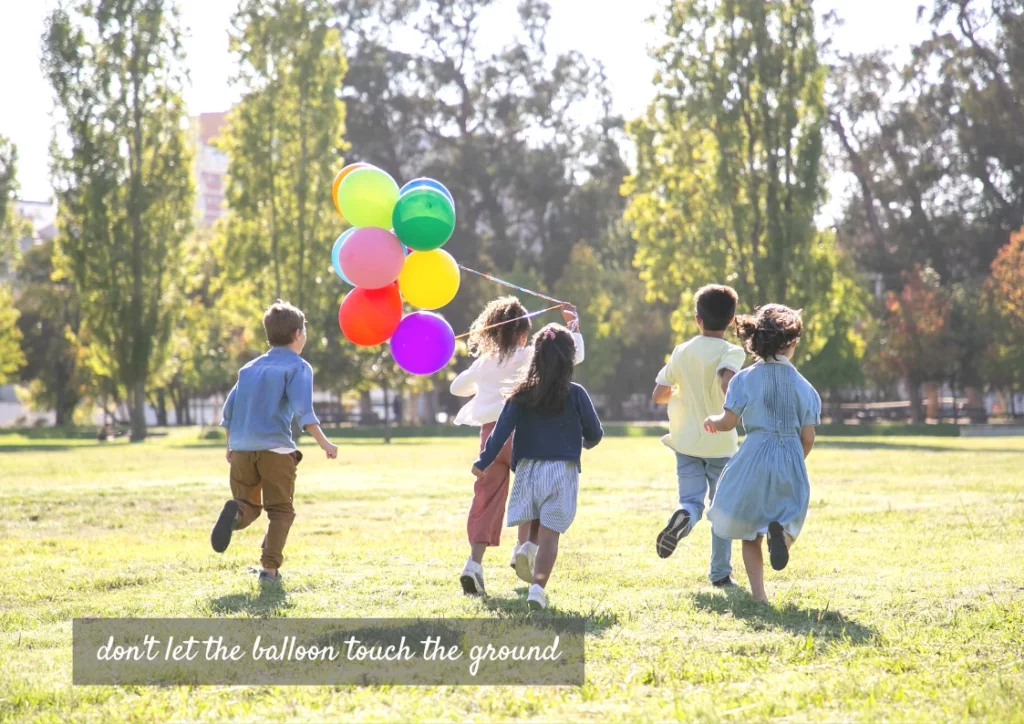 Don't Let The Balloon Fall
Which kid doesn't feel happy with balloons? Don't Let The Balloon Fall or Don't Let The Balloon Touch the Ground is a simple but fun game. Just hit the balloon up in the air, keep it floating so it won't touch the ground. To make it more challenging, have the players juggle 2 balloons, or have one hand tied behind their back.
Trampoline
Free flying up in the air and doing some gymnastics is fun and gives you a feeling of freedom. It's a good exercise too, expect a lot of sweat after a few minutes of hopping and jumping!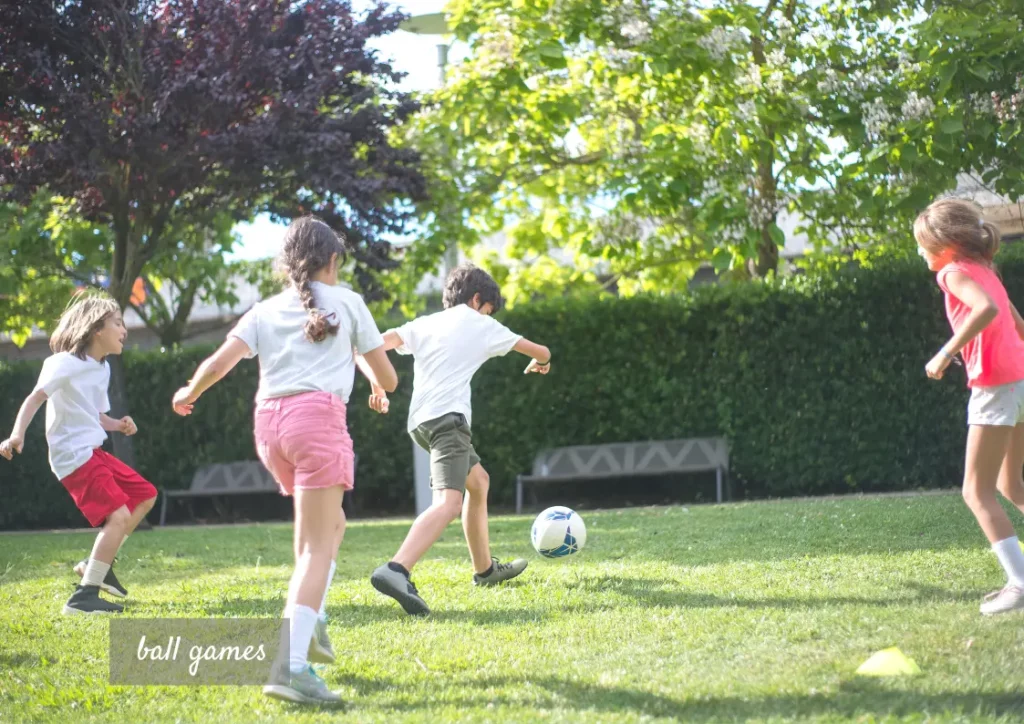 Ball Games
With wide, open spaces, Vienna parks can be a football field although there are areas designated for such for sure. If you are not able to bring stuff for games, there are still ball games you can play (bring the ball).
Football
Football is the most popular sport in Austria. Almost all schools has a football area so kids can play them during PE class. In many neighborhoods, you would also find caged courts so kids can safely play and the ball don't go far off the streets.
Dodgeball
Another fun ball game is dodgeball, we recommend to use a ball not as heavy as a basketball to avoid hurting the players.
How to play:
The goal is to eliminate the other team's players.
You can eliminate a player by throwing the ball at them. If the player you targeted dodge then the game continues, if he or she catches the ball, you get eliminated.
Catching a ball thrown at you before it touches the ground eliminates the player that threw the ball.
Volleyball
Or Beach Volleyball can be played at the parks too. There are boxes of sand complete with nets installed for those who enjoy the game. While we've often played indoors, there are also outdoor volleyball cork courts we've played on, but you should bring a whole team and an opponent team to play properly.
Basketball
Hubby and I were actually glad to see basketball courts and hoops in this football-dominated city. When we can't book an indoor court, we settle on the rough courts at the parks with some friends.
TableTennis
Table tennis or pingpong is my second favorite sport (volleyball is first). So I'm happy that there are a lot of pingpong tables around the parks, even behind our building by the playground. But, they're concrete which is very different from wood. Still, we do get our rackets out and play when we can.
Parkour and Nets

There's really so much to do at Vienna's parks if you don't have sports equipment. There are wood play installation, giant nets, and playground sets that's more than just the usual seesaw, slide, and swing. These are best for developing kids' cognitive and physical capabilities. I say that with certainty, because our kids made use of them for years! What's good is that those responsible for the parks and play areas also lay out sand and wood barks on the ground to soften the impact in case a child falls. Yes, no child in Vienna gets bored, and their safety comes in first too!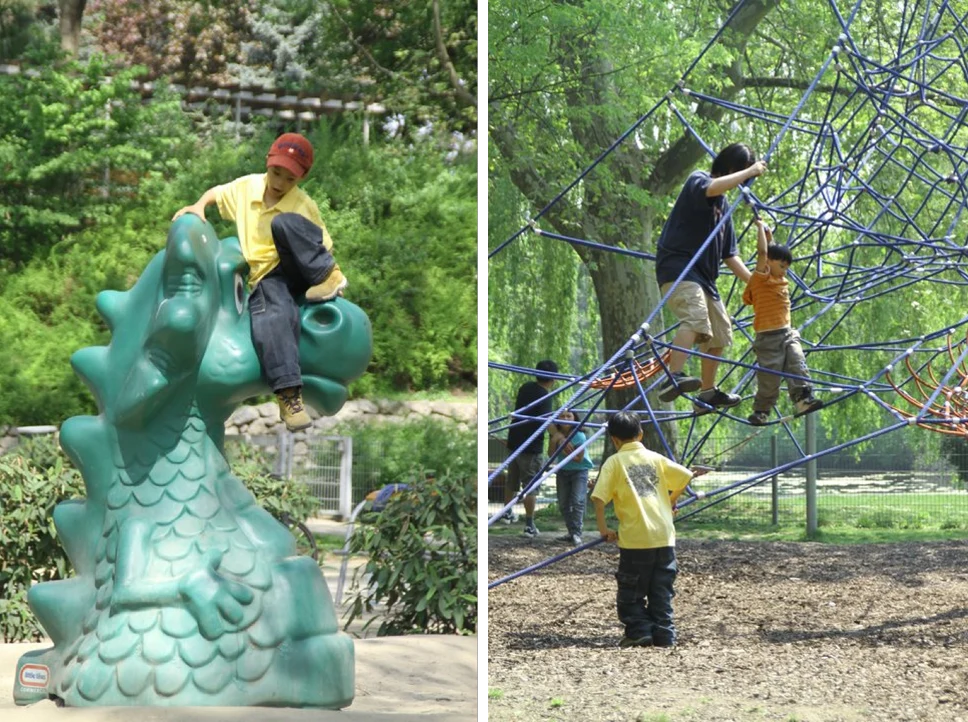 --------------------------Book your Vienna stay here!--------------------------