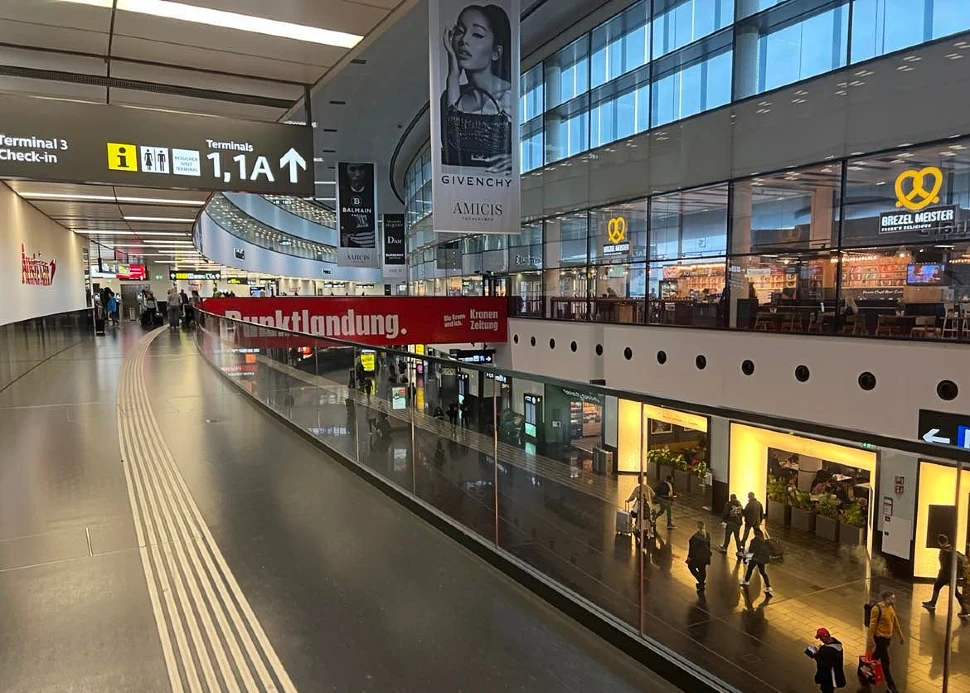 Short Answer: either €1,90 or €4.20, or €14,50.
There are several ways to reach Vienna from the airport (Flughafen). No, the airport is not in Vienna per se, it's at least 23 minutes away (by car) from the city proper, situated in Schwecat, a town southeast of Vienna. It can get confusing as to how much the train ticket costs when you are at the ticketing booth. So let's look at the options for you to be able to choose the cheaper, more convenient route.
Schnellbahn 7 (Sbahn 7 ÖBB)
The cheapest route to get to Vienna's city center is to take the SBahn line 7 of the ÖBB (Österreichischen Bundesbahn/Austrian Federal Railways). This trainline runs as a direct connection every half hour. The platform is directly connected to the Vienna Airport and can be reached easily on foot from the arrival terminals through an underground, covered tunnel.

In actuality, the S7 line has 14 stops coming from the airport including Wien Praterstern,  Traisengasse, Handelskai, and Floridsdorf.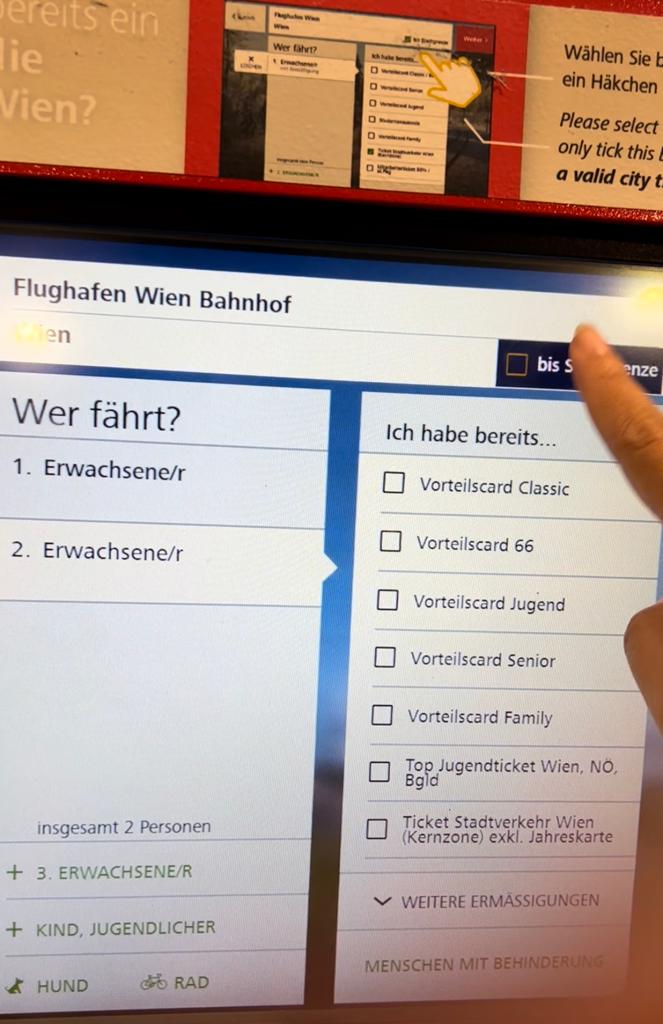 A one-way ticket costs €1.90 and entitles you to travel from Vienna Airport to the city limits. This is for when you already have a ticket for the entire Vienna public transport network (bought online in advance). If you need only this ticket, click the "bis Stadtgrenze" (until city limits) on the ticket booth screen.

It's €4.20 = 1.80 for the ticket up to the Vienna city limits + 2.40 for the ticket in the Vienna city area. Get this when you have no Vienna public transport network ticket yet, you do not need to tick the box.

The Vienna transportation network relies on an honest system. Once you buy a ticket, there's no machine that would check when you enter the trains. However, there would be train inspectors from time to time who will check on them.
Tickets can be bought at the booths at the arrival area of the Vienna Airport – both at the red ÖBB ticket machines and at the ticket counter (open Monday to Sunday 8:00 a.m. – 6:30 p.m.). Ticket machines (red ones) are also located at the mezzanine before you get down to the platforms and can be paid in cash (Euro banknotes & Euro bills) and by credit card.
Additional info for ÖBB trains: in trains that are labelled R, REX, or S-Bahn, you need to have a ticket before you board. If you do not have a valid ticket, you can be fined €105 plus the price of the ticket you should have bought. Exceptions are boarding stations where there are no ticket machine. On intercity trains labeled railjet ICE, EC, IC, EN, D, you can buy a ticket from the train crew, but do this as soon as you board. (You have to tell them you need to buy a ticket before they ask you if you have one.)
If in doubt, always buy online -> https://shop.oebbtickets.at/en/ticket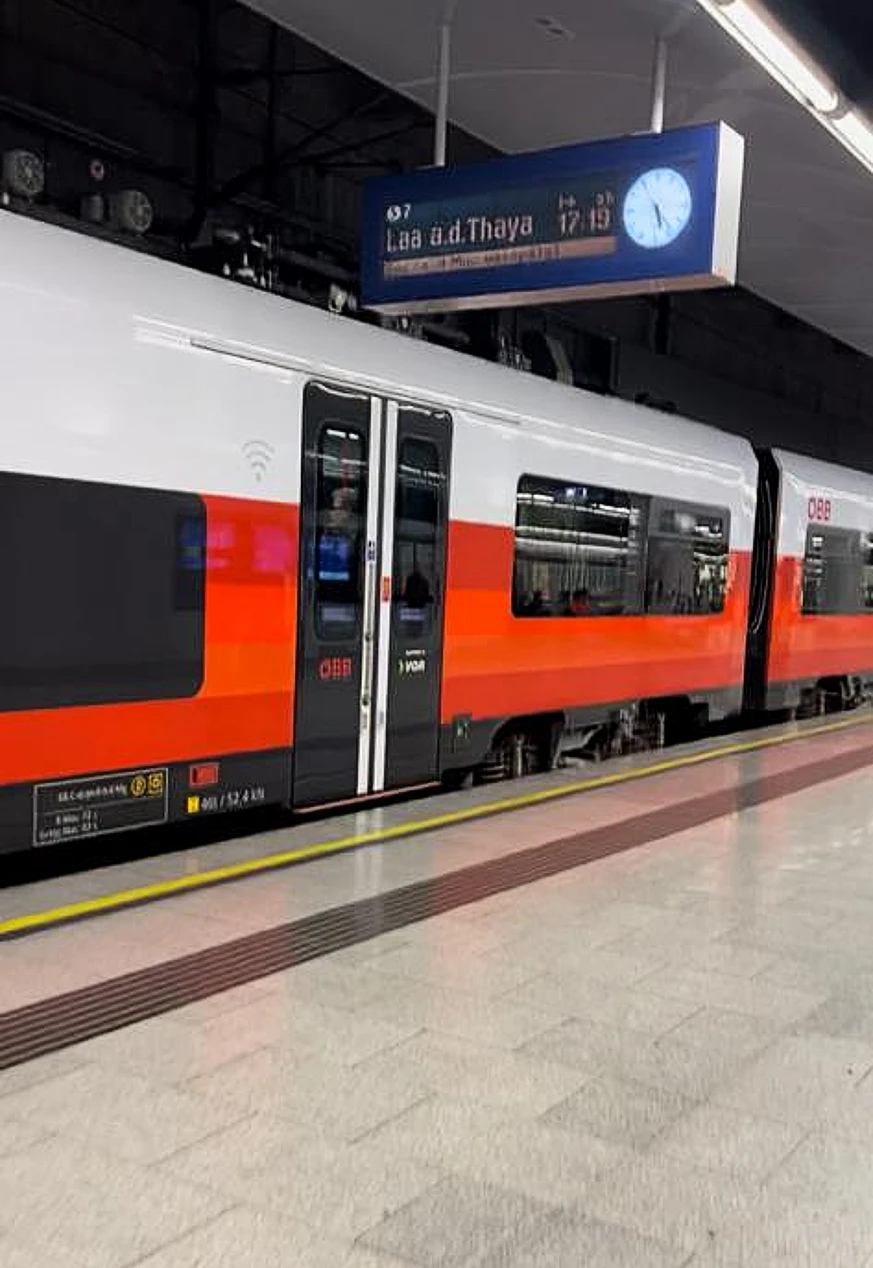 ÖBB Railjet to Hauptbahnhof (Vienna Central Station)

This is a non-stop direct connection with the ÖBB Railjet from Vienna Airport to Vienna Central Station (Wien Hauptbahnhof). Depending on circumstances it can take between 15 to 30 minutes on this route. The trains depart every 30 minutes and costs the same as the ÖBB Sbahn 7 (€1.90 until Central Station, €4.20  with Vienna public transport network use).
Vienna's Central or Main Station is also connected to many other train networks in Vienna, regional trains, and international lines too. It is easy to transfer to another train line and there are a lot of ticket booths to buy your Vienna public transport network ticket (24, 48, 72 hour tickets, weekly, even monthly) from.
Its renovation and expansion a few years back saw a boom in tourism around the area. Hotels and other accommodations are now easily accessible, bus lines going to many towns and cities have also been given their own stops. It is also one of the train stations where some restaurants, grocery stores, bakeries are open even on Sundays.
CAT – City Airport Train
If you don't mind spending €14,50 on your train fare, take the City Airport Train. It's an express train that takes about 15 minutes from the airport to Vienna's Wien Mitte train station. It leaves every 30 minutes from the airport and as an express train only has one stop.
CAT tickets can be purchased online or from the green ticket booths beside the ÖBB ones and it has its own platform so you won't get confused when boarding. The train is green (see above photo) opposed to the blue (regional trains) and red (Vienna trains) of the ÖBB.
The CAT's train stop station Wien Mitte is inside a mall, so you can conveniently eat, shop, leave your luggage in the lockers if you arrived too early for accommodation check-in. It also has many train network connection so you can easily hop from there to the next train, tram, or bus going to your hotel. Vienna's transportation is convenient and carefully planned, this along with other factors make the city livable and stable.

Other Ways To Travel From the Airport To Vienna's City Proper
Airport Bus
The Vienna Airport Lines (VAL) buses take you non-stop from Vienna Airport to Vienna's city center and vice versa. It costs €9 for a single trip ticket and €15 with return, which you can input the date on when buying online.
Line VAL 1 runs around the clock from the Vienna Airport to Wien Westbahnhof (via Wien Hauptbahnhof). (Only two stops and takes about 40 minutes.)
Line VAL 2 runs from the Vienna Airport to Morzinplatz/Schwedenplatz every hour. (No other stops and a total of 20 minutes travel time.)
Line VAL 3 runs from the Vienna Airport to Donauzentrum (Mall in the 1220) along a number of stops.
Choose the one that has a stop nearest your hotel for convenience.
Both hand luggage and travel luggage may be carried on the bus, provided that the individual weight of 25 kg is not exceeded. Animals, such as dogs, may be taken on the bus if they are kept on a leash and wear a muzzle. The detailed bus timetable including all stops and further information on the subject of accessibility, luggage, fares and contact options for complaints/lost objects can be viewed on the AirportLines website.
Taxi, Über, Bolt

Taxi fares from the airport to your hotel can range from €32 to €50. You will find taxi services outside the airport, or book from the counter. As taxis aren't sure if they will have passengers going back to the airport, they tend to top up the fare.
Über and Bolt also have a big presence in Vienna, you can choose the car size you need when you book and you would also be able to see the costs on the app.
How Much Does a Train Ticket from Vienna to the Airport Cost?

If you already have a Vienna ticket you only have to pay from the city limit to the airport and it costs €1.90. You can start from Wien Mitte where the S7 line stops without fail. Or you can board from the other stops you can see on the photo below.

If you do not have a Vienna ticket yet, this will cost €4.20 to cover both Vienna transportation fare and that from the city limit to the airport. The train actually travels until Wolfsthal so this is what might be written on the train. This ride takes about 33 minutes.

If you are nearer the Vienna Main Train station (Hauptbahnhof), you can take the train that goes straight to the airport too.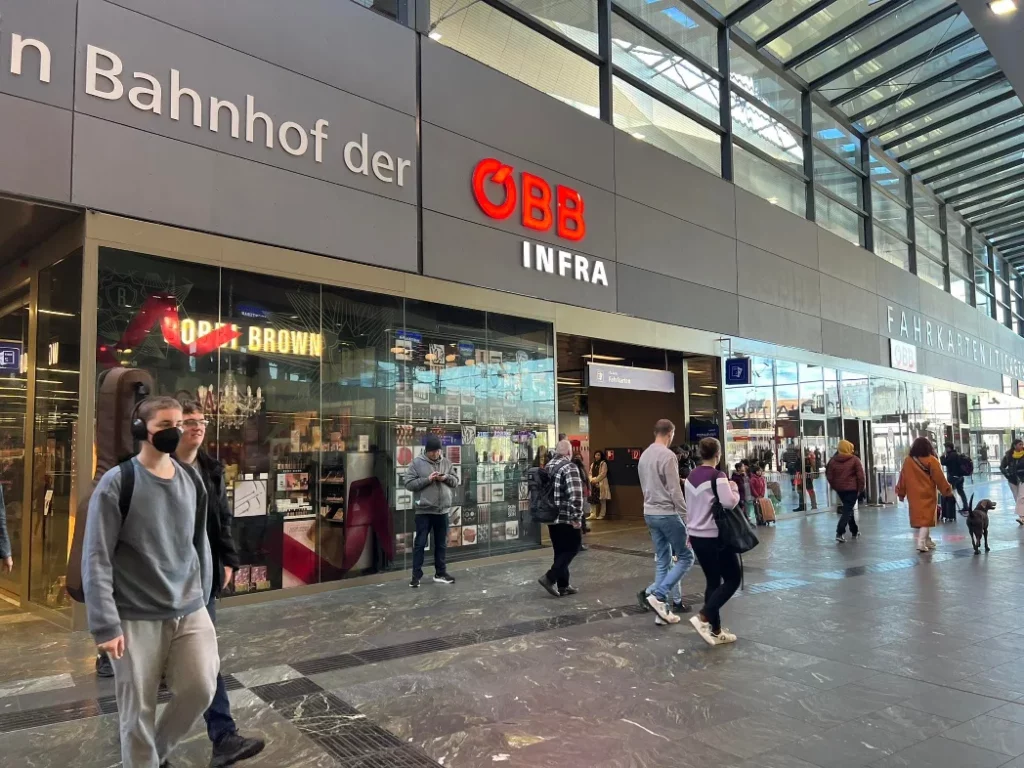 How Much Does a Train Ticket from the Airport To Vienna Cost : ÖBB Ticket ((Fahrkarten) shop  at the Hauptbahnhof – Ticket Machines are behind and at the side of the Bobbi Brown store 
--------------------------Book your Vienna stay here!--------------------------